Transforming Technologies is pleased to announce the appointment of Michael Guild of Guild Manufacturing Solutions as the Independent Manufacture's Representative for Florida.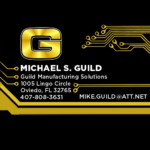 Michael Guild has over 20 years experience serving the electronics industry in Florida.  Guild joins a group of independent sales representatives guided by Roger Chinn, Transforming Technologies Eastern Regional Sales Manager.
Michael Guild can be reached directly at mike.guild@att.net or 407-808-3631.